Vespucci x Fjällräven Spring Walking Kit List
Calling all you fair-weather explorers, spring is just around the corner! We have put together a comprehensive list of things that will help you out on the trails over the next few months. We count ourselves lucky to have Fjällräven as one of our nature-loving partners and kit providers. If you are thinking of getting any new kit this season, we would definitely recommend checking them out!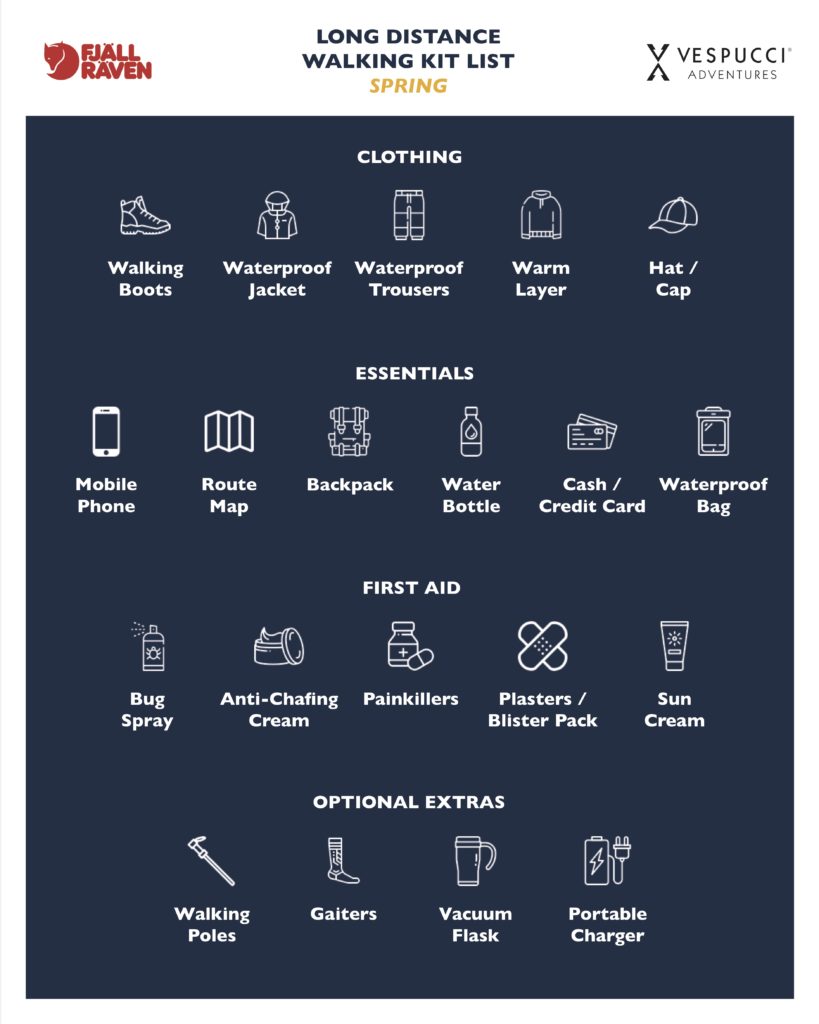 Clothing
Walking Boots – Trails can still be quite muddy in spring, we would always recommend having proper boots.
Waterproof Jacket & Trousers – Anyone who has been walking in the UK will know packing a set of waterproofs is never a bad idea!
Warm Layer – You can be the judge on this one, but the temperature can drop quite quickly in Spring, especially in April.
Hat / Cap – We wouldn't say a hat is absolutely essential for a walk, but looking the part is… Check out our Vespucci X Beanie.
Essentials
Mobile Phone – We prefer to stick to a proper map, but always good to have a fully charged phone, just in case.
Route Map – Nothing beats leaving the stresses of the digital world behind you and getting lost in a Vespucci x OS map.
Backpack – A good backpack is essential on a long walk, Fjällräven has a great range of backpacks to support the day-tripper to the overnight adventurer.
Water Bottle – Staying hydrated is the key to a good walk.
Cash / Card – Make sure you have enough cash with you for that well-deserved drink at the end of the day or even a taxi if you have had enough…
Waterproof Bag – You may be soaked to the bone but it is comforting to know your valuables are dry.
First Aid
Bug Spray – A decent insect repellent should be fine for most parts of the UK.
Anti-Chafing Cream – Enough said!
Painkillers – Having some anti-inflammatory pills or cream handy on long walks is a good idea, just in case something starts to play up.
Plasters / Blister Pack – There is nothing worse than a blister!
Sun Cream – Very very rare to need this in the UK 😉 on a serious note, always wear sun cream if you are out in the sun all day.
Optional Extras
Walking Poles – This is down to personal preference, poles don't exactly win any style points, but they make life a lot easier for your knees.
Gaiters – A great extra to ensure your boots stay that bit dryer.
Vacuum Flask – For all those coffee / tea lovers.
Portable Charger – Just in case.